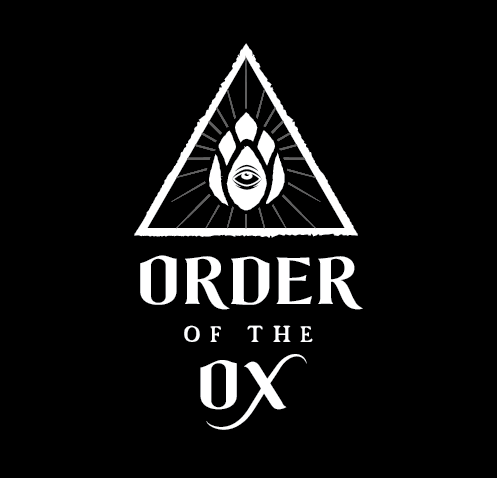 Order of the Ox 2021
You are invited to become a member of The Order of the Ox, a society of passionate Old Ox fans, dedicated to the relentless pursuit of convivial fellowship and exquisite beer. Memberships available for both Ashburn & Middleburg–benefits apply in both locations. There are a limited number of membership slots available for each location, so act fast before they run out!
Starting January 2, 2021, your member benefits will include:
Mugs! We're not quite ready to start serving in club mugs in the tasting room, so we will be asking club members to help us pick the 2021 mug. This personalized beer mug* will reside in the taproom, and go home with you at the end of the year. Hopefully, we will be able to use them starting in the spring!
15% off full-size draft pours every day which can be applied to a tab of up to 10 guests; discount does not apply to tasters and half pints.
15% off 64-oz. growler fills every day
10% off Old Ox merchandise + package beer
Your Order of the Ox benefits apply in both locations. Guest mugs will be available for you to use. 
Once a month use of Old Ox Greenhouse with minimum spend waived (based on availability–but you can reserve in advance).
Two beer releases available for only members to purchase. Both bottles and draft available. 
Member only pre-launch events for Beer My Valentine (Kristin's Passion), Mini Octoberfest (Oxtober Bier) and Black Friday (Cooper's Cloak Imperial Stouts.
Member-only Order of the Ox t-shirt *Ladies* If you would like a woman's cut t-shirt instead of a unisex please email us with your size!
Annual Member Meeting in January which you can attend in-person or virtually (we'll be surveying members to see what date is best for you)
Access to a closed Facebook Group where members can communicate with each other and the brewery. We will also post brewery news for easy viewing.
One Ashburn meetup and one Middleburg meetup for all Order of the Ox members. 
Order of the Ox Happy Hours will be scheduled once COVID restrictions are lifted.
*Please note that while any beer served in a snifter is eligible for the 15% discount, it is not eligible for an 18-oz. pour and will be served in a snifter. Upon request, however, the tasting room staff will pour the contents of the snifter into your Order of the Ox mug.