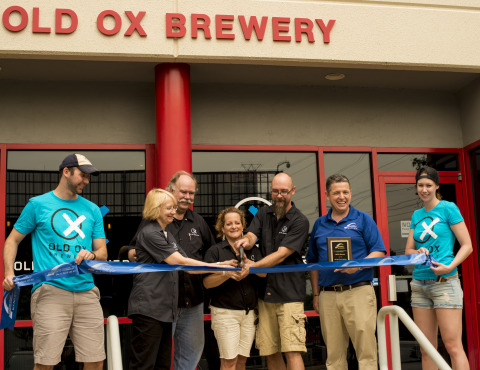 Old Ox Brewery is not only a brewery but also a winery and distillery! We also serve delicious dishes, expertly paired with our craft beverages, from the Old Ox Scratch Kitchen.
Our goal is to support the community that supports us. Our brewery is named for Old Ox Road, one of the oldest in the county, originally built to connect the farmers in Loudoun County with the markets in D.C. We identified with that because we consider ourselves a connection point within our community. Whether that means that people are coming to the tasting room to connect with their friends and family, or whether it's us being able to connect with like-minded businesses like the bars and restaurants that we serve, or the charitable organizations that we're fortunate enough to serve – we really do believe that we can be this connection point within our community that allows us to leave it better than we found it."
Old Ox is a family owned and operated commercial brewery established in 2014. We brew in a 30-barrel brewhouse. Just to give you some perspective, each batch we brew will produce 930 gallons of beer. That is enough for 9,920 12-oz. cans of beer or a little over 413 cases of beer per batch.
Our beer is on draft in many restaurants and in on the shelves in stores in Northern Virginia and the District of Columbia.  Of course, our beer is always available in the Tasting Room either by the pint, six- or four-packs, refillable growlers or kegs.