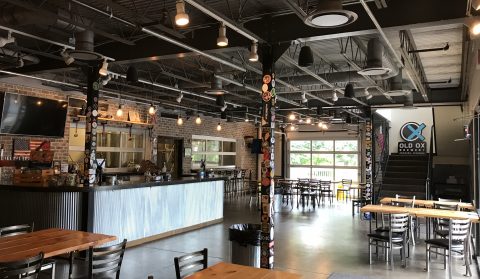 Brewery Tours
Brewery tours are available by reservation only. Email info@oldoxbrewery.com for more details.
---
Reservations Required?
Planning on bringing a group of 10 or more to Old Ox? Fill out this form to contact our Tasting Room Manager, to learn about reserved seating, food arrangements and any other special requests that you have. We look forward to making your event a memorable occasion!
---
Food at Old Ox
Thirsty and hungry? Every day we partner with a different local food truck or restaurant, and let us be the first to tell you they're goooood! Check out what's on the menu today by clicking here.
---
Dogs at Old Ox
We love dogs! Unfortunately, we cannot allow any dogs inside the brewery but they are always welcome on our outdoor patio! Exceptions to this are for service animals as defined by the Americans with Disabilities Act. Please visit this page for complete details. Our Middleburg location is dog friendly!

Tasting Room Hours
Our tasting room is closed, but we are open for pick-up daily from 11:00 a.m. to 7:00 p.m.
---
Beers
To find out more about the beers now available at Old Ox Click Here.
---
Arriving by 2 Wheels
Look for our sign between mile marker 25 and 25 1/2 of the W&OD Trail. We're cycle friendly: beer – bike rack – air – bike tools – food – H20. Oh yes, and really clean restrooms.


---
Arriving by 4 Wheels
Old Ox Brewery is located between Waxpool Road and Route 7, just off Loudoun County Parkway at 44652 Guilford Dr, #114, Ashburn, VA. (Click the map for directions)