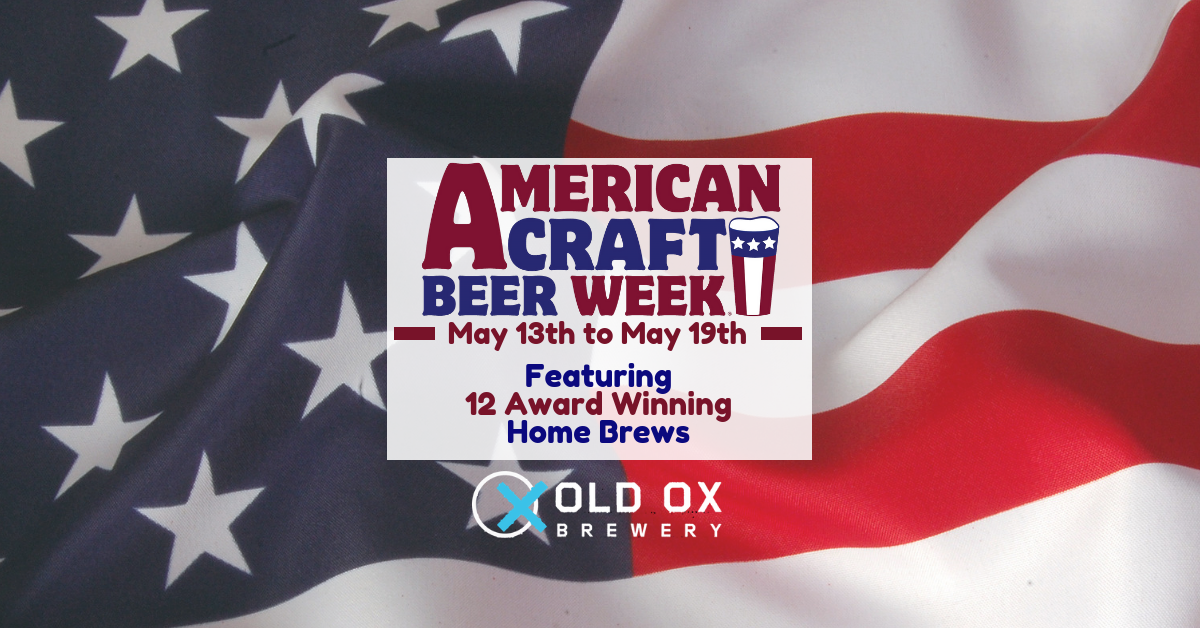 All Week
Bourbon Barrel Aged Sour American Strong Ale (9% ABV): This slightly sour American Strong Ale was bourbon barrel aged and then massively dry hopped to bring out a subtle fruit flavor that balances out the slight funky notes. A smooth & tangy big American Strong.
Brewers: NOVA Homebrew Club
3 Doubles Bourbon Barrel Aged Porter (9.5% ABV): This is a repeat of our successful club Bourbon Barrel Porter we have offered in previous years. A robust porter base with a slightly fuller viscosity to stand up to the strength of the Bourbon barrel aging. This beer will fill you up and make you feel all warm inside. You might need a porter to carry you home after enjoying this one. On Sunday, join us for a vertical tasting of the 2017 & 2018 batches!
Brewers: NOVA Homebrew Club
Tuesday, May 14
J.E.T. Kolsch (5.5% ABV): When you need to cruise the skies at Mach 5.5 (ABV), look no further than the J.E.T. Kolsch! Set your sights on perfected German Pilsen simplicity with a light, crisp finish. Remember the rules of engagement and don't reach for the ejector handle.
Brewers: Thomas Czeh, James Bowling
Rubin's Brown (5% ABV): An English style brown ale. Malty sweetness with a light finish. A tribute to the brewer's wife's grandfather who recently passed. Raise a glass in his honor.
Brewers: Kyle Edgemon, Webster Anderson
Wednesday, May 15
Green Giant IPA (10% ABV): This is an award-winning double IPA, featuring a tremendous amount of hops–two to three times the typical IPA. This beer is fresh and crisp with a hop wallop that will hide the sneaky ABV. If you love hops, one pint won't be enough.
Brewers: Webster Anderson, Brent Jones
Ruad Irish Red (6% ABV): A copper-colored, balanced, easy drinking pint with a slightly sweet character. Enjoy the caramel/toffee notes, a slightly dry finish and just a shot of toasted malt.
Brewer: Carl Harris
Thursday, May 16
Something About A Goat Maibock (7.4% ABV): Brewed for everyone who doesn't like sacrificing ABV–even as the summer heat starts kicking in. This Maibock brings you honey and toasty notes with a slightly dry finish that is amazingly quaffable.
Brewer: Eammon Bemis
Eyes Wide Shut Honey Imperial Milk Stout with Sumatra Coffee (10.1% ABV): Imperial milk stout made with local Andres Apiary honey and finished with a jolt of cold brew coffee.  Don't worry about the caffeine. At 11% ABV, there are no late nights with this beer.
Brewer: Greg Andres
Friday, May 17
My Ex's Soul Cascadian Dark Ale (6.5% ABV): Just like that special someone hid their dark side from you, this is an IPA that has disguised itself as a stout. With an aroma of pine, grapefruit, and roasted malt and tastes of citrus and toasty notes, this beer finishes dry with a hit of caramel sweetness and a moderate lingering bitterness and reminds you that the past wasn't all that bad.
Brewers: Carl Harris, Chris Box
House Favorite ESB (5.6% ABV): ESB is known for its balance between malt and hop bitterness. This beer has caramel malt sweetness and subtle herbal, spicy, fruit and floral aromatics. ESB is the beer that made me want to become a homebrewer. I have brewed this style over 20 times, which has allowed me to refine my recipe and made it a house favorite. It is an easy drinking beer that friends and family can enjoy regardless of their style preference.  
Brewer: Brent Jones
Saturday, May 18
Creamsicle Hazy Pale (6% ABV): This light-bodied IPA with hints of orange up front finishes with a kick of vanilla. The addition of milk sugar helps round out this beer and captures the flavor of a classic Orange Creamsicle.
Brewer: Brandon Marrs
OutBreak IPA (9.25% ABV): A highly drinkable IPA brewed with huge late hop additions and a large dose of honey.
Brewer: Andy Lubel
Sunday, May 19
3 Doubles Bourbon Barrel Aged Porter Vertical Flight featuring 2017, 2018 and 2019 variants of this delicious beer.
Plus we'll tap any remaining kegs from the week.