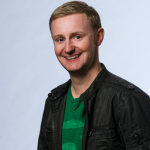 An evening of light-hearted entertainment is brewing!
Saturday, April 11 at 10:00 p.m.
Come laugh at the hilarious impersonations and high-energy antics of Lucas Bohn, Loudoun County comedian who generates big laughs with schoolboy charm and bad-boy charisma. Visit his websitefor a preview of this coming attraction. Tickets are $20 and  available here. Mark your calendar for an evening of friends, fun and fine beer!