It was one year ago this week that we took possession of our space and began construction of Old Ox Brewery and Tasting Room. We worked from November 1 to June 26 to open our doors and we got a lot of help along the way. We want to take a moment to thank the people who helped our dream become a reality. Our deepest thanks to:
Mike Marketti and Dave Gunter for helping us find our great location.
Architect Bob Dunning, General Contractor Chris Avery, Rigger Bill Marley, and all the fine workmen who hammered, soldered, trenched, painted, laid tile, poured concrete and set tanks in place.
Jimmy, Erin, and all the rest of the Middleburg Bank team for believing in and supporting our project.
Premium Distributor of Virginia who believed in us before we brewed our first beer.
NOVA Home Brew Club for being generous with their time and help when we needed it the most.
Jennifer's Pastries, Bakery & Café who kept us well fed during construction and put in long hours to deliver great food to our customers during our opening days.
Loudoun County Government – from zoning and planning, through permitting, and business setup, Loudoun County has been fantastic to work with. They want small businesses to succeed and it shows.
Loudoun County Economic Development Board for being so supportive.
Loudoun County Chamber of Commerce for being so welcoming.
Jake and the Design Army team for great branding.
To our fellow brewers who welcomed us to the industry—they have been generous with their advice and have always taken our call whenever we were stuck—in particular Lost Rhino, Port City, DC Brau, Beltway, Heritage, and Old Bust Head.
Of all the decisions, we have made along the way perhaps the most important was hiring a team of professionals who could consistently brew, deliver, market, and sell the high quality beer that we have always sought as consumers and are now proud to produce as brewers.
And a very big THANK YOU to everyone who has visited us in the tasting room, given us a shot by sampling our beer, provided feedback, and spread the word. You are what it's all about and we're proud to know you as customers and friends.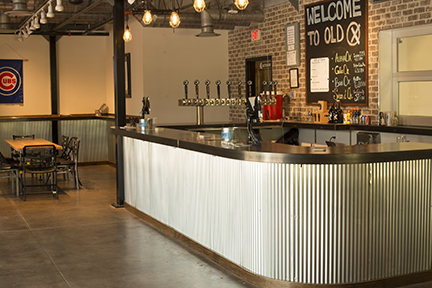 For all of these reasons, our first year has been an amazing journey and exceeded our expectations. We look forward to an oxciting year #2 with great new brews and friendships.
Chris, Graham, Kristin, Mary Ann, Mike and Katy