Old Ox & Friends
06.15.2019 @ 12:00 pm

-

9:00 pm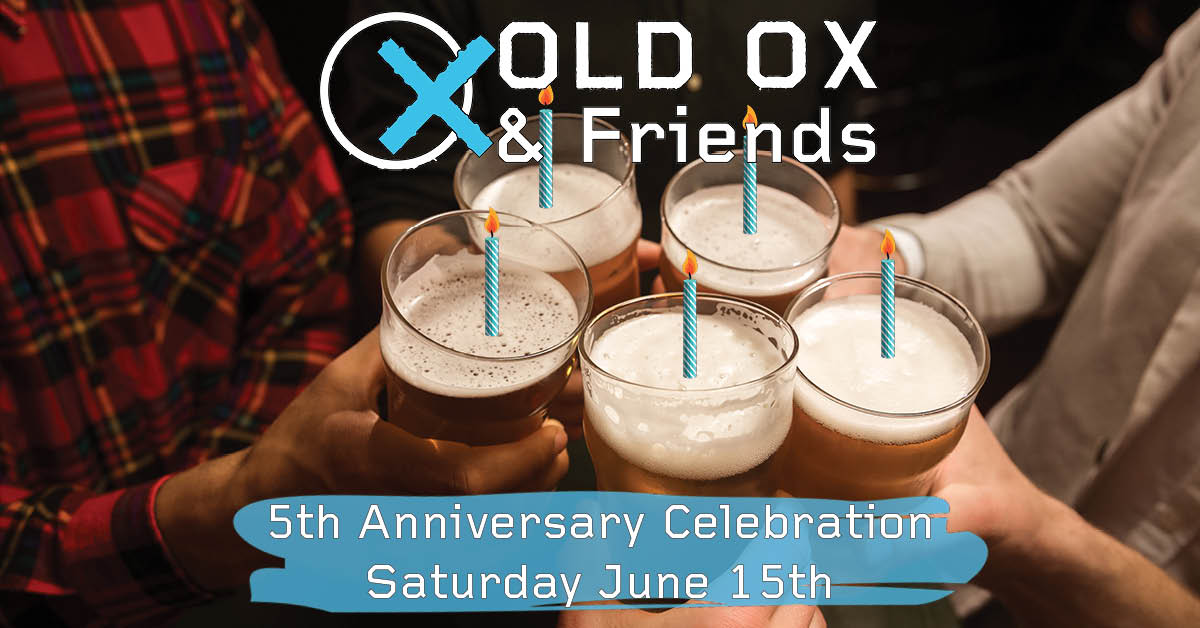 Old Ox & Friends Celebration (Admission is Free!)
Old Ox turns five this June and we're throwing a party! Come celebrate our 5th anniversary with us on Saturday, June 15 from noon to 9:00 p.m. New beer releases, old beer revivals, two awesome bands, and delicious food all day long (did someone say free cake?!). Plus, the chance to be one of the first to see (and drink in) the new Middleburg location! Check out the details below. The first 100 guests through the door will get a free Old Ox 16 oz. Koozie! No cover charge!
New Beer Releases
Cooper's Cloak Barleywine: Our Cooper's Cloak series is a variant on the Drunkard's Cloak of Medieval Europe. Our Cooper is not a drunkard but rather a connoisseur who enjoys the refinement of a thoughtfully constructed barrel-aged beer. This American Barleywine features strong and complex notes of dark fruit, warm vanilla, and rich toffee. Drink now and take home a bottle to cellar for a special occasion.
Hoppier Place SPIN: Our Hoppier Place collection is an exploration into the magical and infinitely expandable world of hops. We've blended Galaxy, Cascade, Centinnel and Chinnok hops to create wondrous notes of tropical guava, dank grapefruit, and soft pine. Take one out for a spin!
Orange Creamsicle Hazy Pale: This light bodied IPA offers hints of orange up front and finishes with a kick of vanilla. The addition of milk sugar helps round this beer out and captures the flavor of a classic Orange Creamsicle. Brewed by Brandon Marrs, a member of the NOVA Homebrew Club and a favorite during American Craft Beer Week.
Limited Edition Throwback Flight
In honor of our 5th anniversary, we're bringing back four of our one-and-done specialty beers that our customers have been asking us to brew again. Quantities are limited–only 100 flights will be available. Flight includes 4 oz. pours of:
–Kristin's Temper: this pale ale has a quick fuse. Brewed with Jalapeños and Citra hops to impart a flash of heat followed by gentle and harmonious hoppy goodness.
–Hoppier Place Mosiac: In our never ending quest for tantalizingly delicious hops, we discovered a stash of much sought-after Mosaic. This baby has been uniquely brewed to coax out aroma without imparting bitterness–then dry hopped extravagantly for an over-the-top hop experience.
–Transfusion: This hybrid style blends the crisp refreshing base of a golden lager with the subtle spice complexity of a farmhouse ale. Apricot is added post-fermentation to add just a hint of sweetness to this spritzy and refreshing warm weather quencher.
-Slack: Catch the glint of sunshine as you pour it into your glass. Sniff its tropical aromas waving in the breeze. Harness the hint of adventure that Denali hops inspire. Take a break. Pour yourself some Slack…
Music
–The Vandelays 2:30-4:30 p.m.
–Rowdy Ace 5:30-8:00 p.m.
Food
–Killer Tomato
–Parallel Food Truck
–Popcorn Monkey
-Free Birthday Cake (we're cutting the cake at 5:00 p.m.)
---
Middleburg Experience (Ticketed Event)
Hop on the bus and take a guided tour of our new location in Middleburg before it is open to the public. Enjoy the day with unlimited beer tastings, lunch, and free time in the town. This event is 21+. Buy your ticket here.
Schduele:
12:00 Bus Departs Old Ox Brewery Ashburn
12:40 Bus Arrives Old Ox Middleburg
1:00 Tour of Old Ox Middleburg/Lunch
2:00 Explore Middleburg
3:00 Bus Departs Middleburg
3:45 Bus Arrives Old Ox Ashburn
Your $50 ticket to ride includes:
Guided tour of the new location: THE Chris Burns will be your tour guide!

A fun round trip bus ride with other Old Ox fans! 

Unlimited beer tastings

Lunch at Old Ox Middleburg

Old Ox 16-oz. koozie