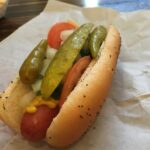 Hot Dogs Chicago Style!
Our "Celebrity Chef" is Angel Miranda (former owner of Windy City Red Hots), who will be steaming dogs and serving them up in true Chicago style. For the uninitiated, that's a Vienna hot dog deliciously embellished with neon green pickle relish, mustard, tomato, dill pickle spear, sport peppers, and a dash of celery salt, lovingly nestled into a poppyseed bun.
Also serving, SMASHBURGERS! This, the most aggressively tasty burger in history, includes double paddies of griddle-pressed ground beef, Cooper's American Cheese, and of course pickle and special sauce all on a toasted Martin's Potato Bun.
Can't decide? Get the Chicago Smash combo! (It's as good as it sounds.)