Giraffe on Draft
06.21.2019 @ 6:00 pm

-

10:00 pm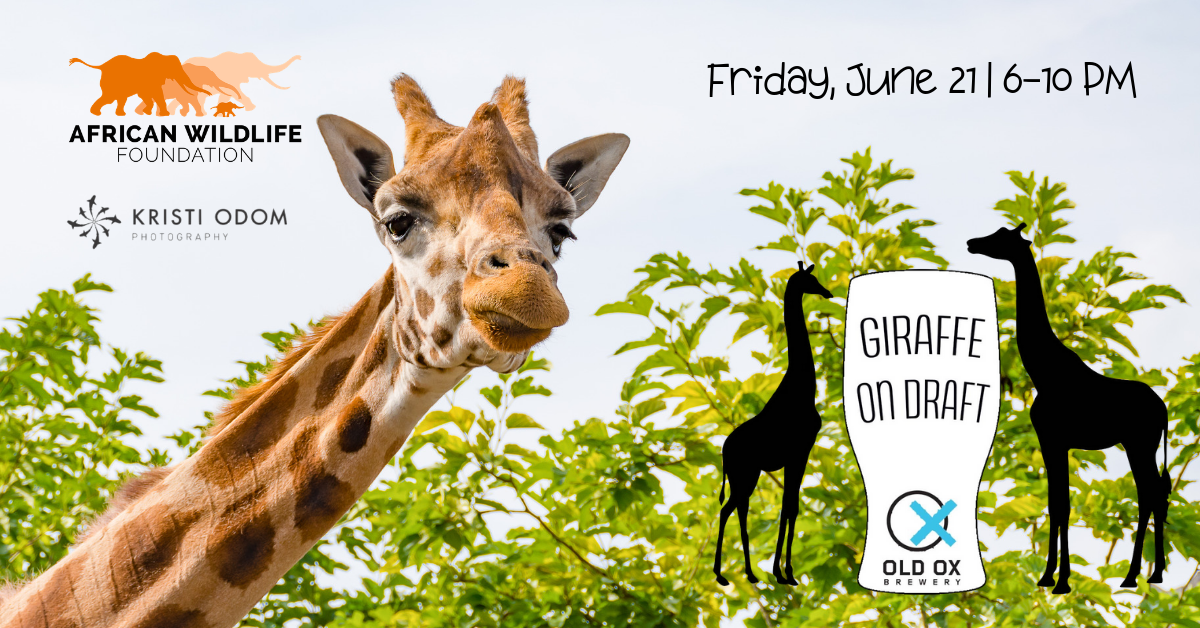 The Summer Solstice (June 21) is the longest day of the year and giraffes are the tallest animal on the planet…what better day to celebrate World Giraffe Day? Join us from 6:00 to 10:00 p.m. for a wildlife fundraiser benefiting the conservation efforts of the African Wildlife Foundation while celebrating local businesses, making new friends, and enjoying terrific beers! Meet the African Wildlife Foundation and learn more about Africa's rich natural history. There will be artwork for sale, raffles with great prizes, a silent auction, live music, and delicious food! Also, Old Ox will be donating $1 of every beer sold to the African Wildlife Foundation. See all the details below.
Art Exhibit
In January 2019, two local wildlife photographers, Kristi Odom and Darren Gustaveson lead a photo-safari in Kenya. Being overwhelmed by the beauty of Africa's rich wildlife they and their companions were inspired to hold a fundraiser and sell their African art for conservation.
Photographers:
Darren Gustaveson
Kristi Odom
Anissa Rahman
Hillary Heincer
Rachel Patterson
Devon Rowland
Leslie Holtaway
Christy Frank
Featuring:
Artwork for sale
Raffle with great prizes
Silent Auction
Live Music- Felix Pickles
Saffron Gourmet Food Truck
African Wildlife Foundation
Headquartered in Nairobi, Kenya, the African Wildlife Foundation (AWF) has nearly 60 years of experience working to ensure wildlife and wildlands thrive in modern Africa. As one of the oldest and largest conservation organizations focused solely on the continent of Africa, AWF is the primary advocate for the protection of African wildlife and wildlands. AWF works across the continent of Africa implementing programs that are focused on safeguarding areas of high conservation value through a holistic suite of projects that protect land, conserve wildlife, improve the lives of local people by enhancing access to education and income-generating activities, and leverage conservation enterprises to promote economic growth that is not at the expense of Africa's natural heritage. To learn more, visit www.awf.org.
TALL facts
Adult giraffes legs are six feet tall. They can sprint at 35 mph and run for longer distances at 10 mph.
Female giraffes often return to where they were born to give birth. Once there, their calves receive a rough welcome into the world, falling over five feet to the ground. Baby giraffes can be as tall as six feet when born.
Giraffes have such a powerful kick that they can decapitate a lion if it tries to attack.