Beer & Cheese Pairing
06.11.2021 @ 7:00 pm

-

8:30 pm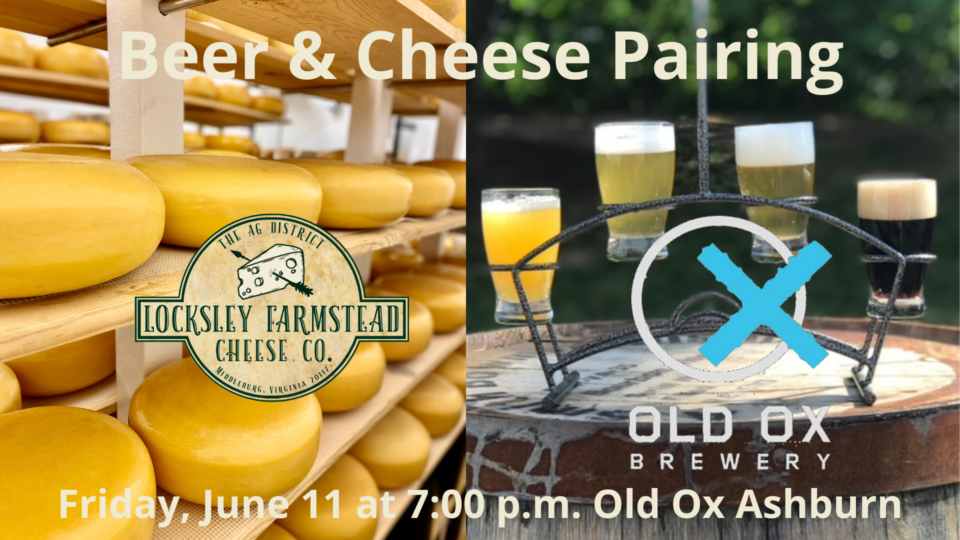 Explore with us the delicious chemistry between beer and cheese. We've collaborated with The Ag District's Locksley Estate Farmstead Cheese Company to pair their handcrafted cheeses produced right here in Loudoun County with Old Ox favorites. Special guests Cheesemaker Erin Saacke and Chef Keaton Beus will describe the unique flavors of each of the cheeses and walk you through the cheese-making process. A touch of locally made honey, wine mustard, strawberry jam and fresh baguettes complete your tasting experience. $20 per person. Reserve your spot today!
Your pairing includes:
Funky Face Tropical with the King Richard Bleu and Quail and Hound Honey
Hop Camo with the Little John Cheddar and Norton Grape Mustard
Golden Ox with the Friar Tuck Fromage Blanc and Sarah's Patio White Strawberry Jam
Black Ox with the Nottingham Gouda
Love it? Take some home!
The Cheeses:
Friar Tuck Fromage Blanc
This spreadable fromage blanc boasts flavors of young cream with a bold tang and a salty finish. Friar Tuck is made fresh weekly from 100% whole milk.
Little John Cheddar
A stirred curd cheddar, Little John is firm but creamy with a nice sharpness. Aged at least six months.
Nottingham Gouda
Boasting a smooth texture, Nottingham is mild and sweet with notes of toasted hazelnuts and butter.
King Richard Bleu
Creamy, melt-in-your-mouth texture with mild earthy and salty blue flavors.
Get your tickets here.