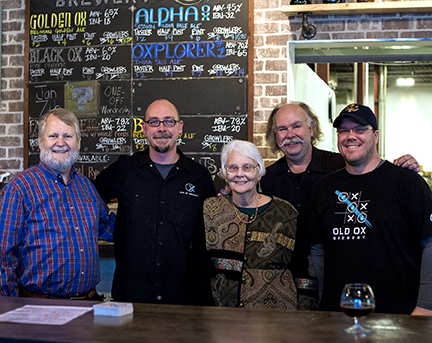 We are saddened to note the passing of Richard Hardin on January 30. Richard was one of our first customers and very quickly assumed the mantle of beer evangelist as he loved bringing in friends and relatives to experience his latest find. He was the leader of the Ashby Pond ROMEO (Retired Old Men Eating Out) Club and in that capacity brought a fantastic group of senior friends to the brewery again and again for afternoons of good food, good beer and great fellowship.
In keeping with Richard's attitude toward life, he chose to throw one helluva party for all of his friends in early January and we were honored to be a part of it. Richard wanted the event to have a meaning beyond being a great party and asked his friends to support the Loudoun Interfaith Relief Food Bank—a call that did not go unheeded.
The Old Ox Crew is grateful for the opportunity that we had to get to know Richard. We are proud to call him our friend. To Richard!