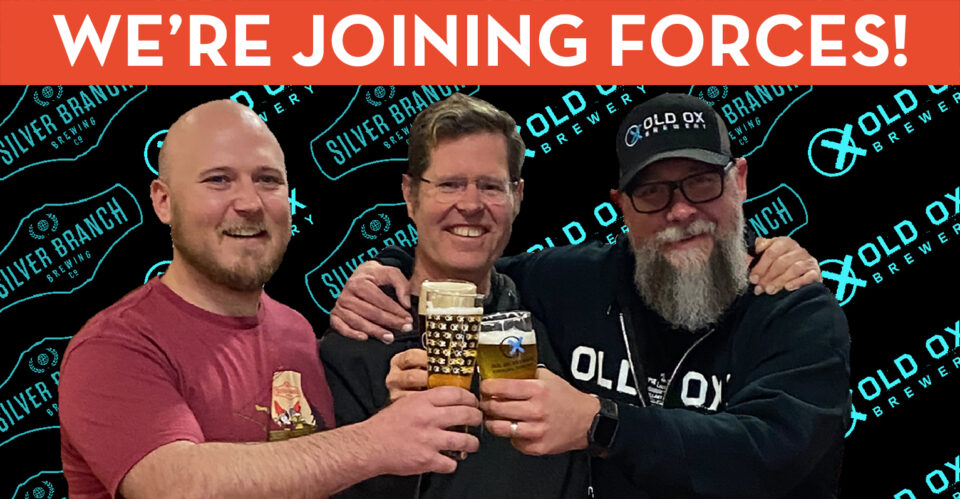 Old Ox Brewery is pleased to announce our intent to merge with Silver Branch Brewing Co. of Silver Spring, Maryland. (Click here for Press Release)
Overview: Old Ox and Silver Branch are planning to merge to create one cohesive company that allows us to combine Old Ox's brand recognition, distribution expertise, and brewing capacity with Silver Branch's hospitality background, marketing experience, and quickly growing portfolio of beers, in order to create a DMV craft beverage juggernaut. Additionally, we'll be able to leverage our combined purchasing power to get better deals on everything from raw ingredients to business insurance to accounting services. That part isn't as sexy but it's super-groovy to our CFO.
Impact on you: First and foremost I want you to know that Old Ox will continue to operate our tasting rooms and brew the beers you've come to know and love/tolerate/spit into the sink. We will do this with all of the same fantastic staff that we are blessed to have now. The beautiful part of this merger is that in addition to the Old Ox you know, you'll be introduced to a new loveable member of the family. How will it work? Read on!
Impact on Old Ox: There are too many positives to mention in one email but my favorite things about this merger are:
The Old Ox brand remains intact. We are not combining Silver Branch and Old Ox brands and tasting rooms. We will maintain our unique identities. We will absolutely look to cross-promote and will start offering some of each other's products in our respective tasting rooms, but Old Ox is still Old Ox and, of course, still awesome.
While our two companies share similar ideals and goals, our brands and our business strategies have been very different. Silver Branch started tasting room only. Old Ox started with a focus on distribution. Old Ox specializes in American styles like IPAs and Robust Porters. Silver Branch specializes in European styles like Belgian Saisons, German lagers, and English ales. These distinctions complement each other in a way that is going to give us an extraordinary breadth of expertise and an unmatched variety of delightful products.
This merger affords us the opportunity for rapid growth, especially in the distribution market. We will see new roles open up across all of our business units to support that growth. That means opportunity for our people. Sales, Marketing, Management, etc. It's gonna be a lot of work, but it's going to be a lot of fun!
Investment in our facilities. This has already begun. The Middleburg brewery is now operational with kitchen updates in process. In Ashburn, we just received two new 120 bbl vessels to increase our cellar capacity. (They're giant and sparkly and I love them.) We will start to see additional investments in the facilities over the coming months. Tasting room refresh, packaging line updates, grain silo, and more.
We get to learn from each other. We have a lot of great people with a lot of great experience between these two companies. We get to see how each other has approached business decisions in the past. How we've created different solutions. We get to pick the best of both worlds to make both of our companies even better.
Impact on leadership: The Burns family will maintain ownership in our new combined company. I will continue on as Co-Founder and continue in an executive leadership role. Mary Ann and Graham will maintain ownership but will begin to transition out of the day-to-day operations of the business over time. They are ready to sit on the beach with Mai-Tais in hand. Retirement has always been a part of our family plan and this is a great way for us to start moving towards that goal.
MA & G leave big shoes to fill so Christian and Brett, the two co-founders of Silver Branch, are expanding their executive leadership roles with me. We will share co-founder titles and will each take on management of different parts of the combined companies. Christian will head up Brewing Operations. Brett will head up Tasting Room Operations. I will head up Sales. Everyone will have a role in brand innovation and fun stuff–I mean, it's beer, if we aren't having fun we're doing it wrong!
Current Status: We're currently doing all of the back office blah, blah, blah that comes along with business mergers. We're creating new operating agreements, working with accountants and lawyers to get the new business structure set up, etc. Incidentally, this is why we're announcing our "Intent to Merge" and not announcing our merger. We have a lot of paperwork and legal stuff to get through before a deal is done. It's a tedious and boring part of an otherwise extraordinarily cool endeavor. While we wait on those things, we have already begun plotting world domination.
Timing: If all goes well with the items listed above, we're hoping to be a fully combined and integrated company within the next three months.
What happens next: Today we are announcing to the world our intent to merge. I expect there will be some press. I expect there will be some social media chatter. I expect our friends, family, customers, retailers, suppliers, distributors, and our industry brethren will want to talk about this. And why wouldn't they? It's the coolest thing to happen to the DMV beer since Old Ox opened in 2014. 😉
After that, it'll be time for a beer! We're working on a celebratory collab project now for release in May. The beer is brewed, the label is designed, the release is being planned… I'm so excited! More details soon but rest assured there will be a party. Your attendance is mandatory. We will have beers, food, and hugs.
I will keep you updated as new details emerge. In the meantime, please let me know if you have any questions. Y'all mean the world to me. Thank you for your continued support. Exciting times are just ahead!
Chris